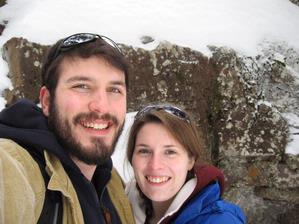 More About Me
I grew up in Silverdale, and I graduated from Orr High School. My younger sister, Sara, graduated from the Northwoods School this year and is at Bemidji State University, for registered nursing.

I received my Elementary Education Degree from Bemidji State University. BSU provided me with the opportunity to teach in a first grade classroom in Red Lake, a first and a fourth grade classroom at Northern Elementary in Bemidji, and a sixth and an eighth grade classroom at the Bemidji Middle School.

I married my wonderful husband Michael, in May of 2011. Michael, a native of Rockford, Illinois, also graduated from Bemidji State University with a degree in Environmental Studies. He is a lab analyst at Pace Labs. Together we purchased a quaint little house in Britt.

My hobbies and interests include: hiking, camping, backpacking, playing games, frisbee golfing, and sketching. My husband and I like to go hiking, backpacking, and camping in the BWCA and Superior Hiking Trail.

The 2014-2015 was another fanastic school year, and I look forward to my fifth year of teaching in Nett Lake. I hope there are many years to come.